Website number 0
TAAT CMS - Polish CMS
TAAT CMS is our own Polish Content Management System (Polish CMS), the core of our projects.
It allows us to quickly create effective web pages, where adding and updating content is as easy as sending an email.
Responsive Web Design
Our sites works well on any device, browser and operatings systems.
Page elements are adjusted for optimal user experience, depending on the used device.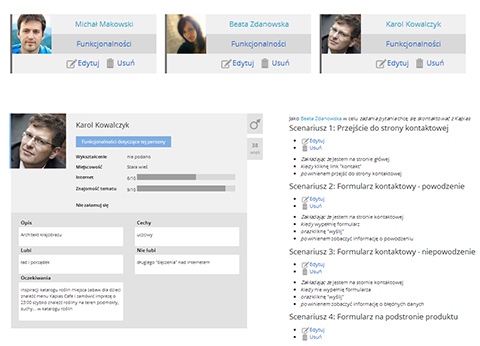 User Centered Design
At the very beginning we collect data and keywords for better optimization. We create personas and analyze possible use cases.
This method helps to build effective and user-friendly applications.
Modular design
We have complete modules to manage:
pages and content
news in different categories
language versions
photos and other multimedia
calendar events
product catalogue
shopping cart (e-commerce)
advertising
newsletter
We can easily add any new modules.
Effectiveness
TAAT CMS effectiveness is based on few simple facts:
The highest technical quality (fast page loading, no errors).
Sites are easily processed by search engine crawlers (semantic structure, correct code, no duplicates).
Search engines are kept informed of any changes.
Strategic decisions can be based on statistics available for administrators.
Easy editing allows optimal, frequent changes to reach conversion goals.
Attractive graphics and design.
Multilanguage
Every single version may work under it's own domain, each of the language versions may have different content (less or more pages)
Translated text, image descriptions, meta data, forms, messages and entire interface.
Currencies can be automatically converted by daily NBP rate.
Subpages and menus
Create sitemap using Drag and drop.
Sitemap
Page structure is reflected in navigation menu, breadcrumbs navigation and xml sitemap which is sent to search engine bots.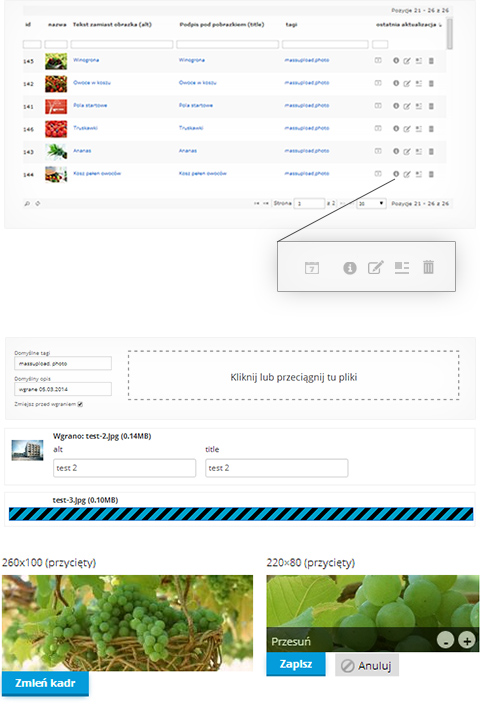 Photos and images
Google robots can't tell what story the picture tells until it has a text description.
You can write descriptions for each image in administration panel. Well described images are more effective than the text itself.
Batch Upload allows you to upload many images at once. Don't worry about size of the pictures. They are automatically resized and clipped to the required size.
You can create new gallery or slideshow in one click after batch upload.
Image gallery
Images can be organized in galleries and slideshows. You can organize them in categories, insert inline into pages, news and product descriptions.
News
To create a feel that the site is alive, you can add news or articles grouped into thematic categories.
Optionally, you can allow users to comment each news.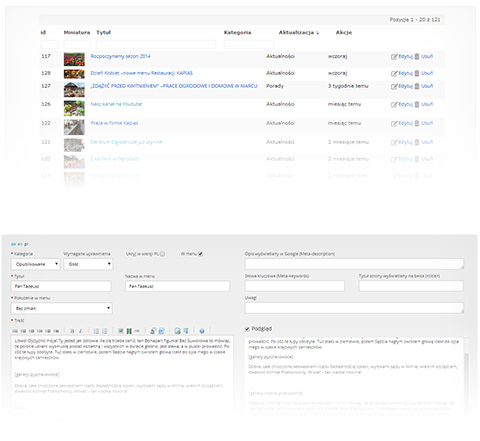 Widgets
On particular pages, depending on the context we can display widgets, for example:
similar pages
contact form
promoted products
send to a friend
Facebook widget
top 10
what's new?
Users
You can manage users, assign them to the groups and add access privileges.
Users may change passwords and edit personal information.
Optionally they can create an account by registering through the Google account, Facebook or other OpenID.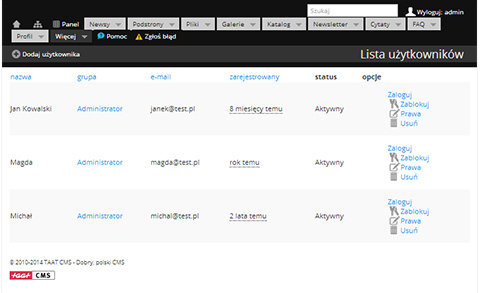 Search bar
Every content in TAAT CMS can be easily found using search bar.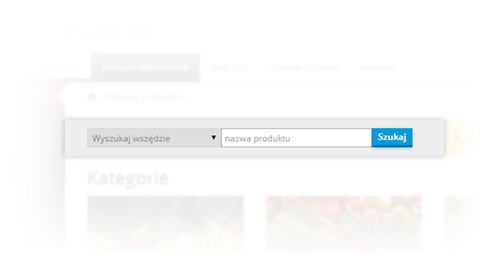 Ping
Search engine robots are automatically notified of any change made in the administration panel. Sitemap is automatically updated.
Back-end
You need something more than images.
Out of the box you get:
Error reporting system
Automatic monitoring of SERP positions
Backups
Migration - allows easy upgrades
Automated unit and functional tests ensure that everything always works as it should.
E-mails that never get to spam.
Integration with Google Maps and tools for webmasters
Statistics:
activity tracking
most popular pages
least effective pages
conversation and bounce rates